The conventional jobs are getting old and innovation is trending, and no one knows how to handle innovation better than the startup companies. Apart from excellent customer service and quality products/services, the world is in awe looking at how some companies have transmogrified their office culture.
When it comes to understanding how a startup works and what makes a startup successful, a major portion of the topic goes into understanding how it should develop an effective startup culture that will be responsible for bringing out the required productivity in the office.
We all know how a startup comes into existence. One person gets an idea, he shares it with a few (in most cases they are his friends), and they all start believing in the purpose of the idea. The founders hire more people and the purpose behind creating a service/product is shared among the new guys. The new members now work keeping the same belief in their mind.
This way, every member of the company gradually starts adopting the cultural 'sense' that the founders had. The belief becomes an essential factor in fostering a work environment that stimulates a startup's growth.
Jeff Lawson, CEO and co-founder of Twilio, defined culture as a collection of people who make thousands of decisions every day, and you as the leader of the company have the confidence that every decision being made is the right one. 
The faith that the CEO has in his team members (the way they think and feel about the company is similar to his), deem the employees as culturally fit.
Alfred Lin, American venture capitalist at Sequoia Capital, describes culture using a simple sentence.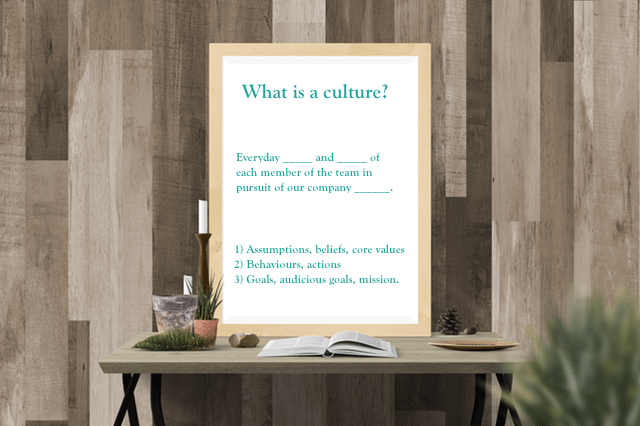 "Everyday core values and actions of each member of the team in pursuit of our company mission."
IMPORTANCE OF A CULTURE
Culture teaches you to be independent, autonomous, and entrepreneurial

Brian Chesky, CEO and co-founder of Airbnb wrote a letter to his team members that explained why culture was important to him, other co-founders and their investor Peter Thiel. When Brian asked Peter if he had any important piece of advice for them.

He replied, " Don't f*ck up the culture."

It came as a shock to Brian to hear that from someone who just invested $150M in their company. Peter told them that their culture was what made him invest in Airbnb.

Brian says, "The stronger the culture, the less corporate process a company needs. When the culture is strong, you can trust everyone to do the right thing. People can be independent and autonomous. They can be entrepreneurial."

Defined culture helps in finding culturally fit people

Shauna Mei, Founder, and CEO of AHAlife believes that having a defined culture helps in finding the right people. People who find your culture believable and are passionate about what you do will come out of the horde.

Tony Hseigh, CEO of Zappos explains yet another reason why it's beneficial in the long run. When the company is small, the CEO itself participates in vetting each candidate during early recruitment. But as the company grows, it becomes practically impossible to involve the CEO in each hire. Hiring culturally fit people who share the same views as the CEO can help in building a bigger team without needing the CEO on every step.
Establishing culture early becomes a guide that ultimately grows to become a unique identity.

Culture helps in team building


Working with people who believe in same values as you, helps in building good relationships that money and equity can't bring. There are several startup stories that tell us how they got through tough times when their startup failed only because their team didn't fall apart.

Culture plays an important part in team building. Building relationships on company's core values and culture benefit in the long run.

Culture boosts employee retention


According to a study, "Employees who give their work culture low marks are nearly 15% more likely to think about a new job than their counterparts." Employee retention issues are mostly emotional rather than economic. If people feel unhappy in a work environment, there's hardly any hope for the person to be productive.
STARTUP CULTURES AROUND THE WORLD
Airbnb:
Airbnb uses the tagline 'Belong Anywhere' that automatically paints a picture of a world without barriers in your mind. The company lives up to its tagline in terms of the office design too.
The office of Airbnb has an interior that's got lots of open spaces and no cubicles. The colleagues feel free to talk to each other whenever they want and discuss without any obstructions or barriers in their way. They call it 'Belong Anywhere Space' and instead of desks, they have 'landing zones' to keep or hang their stuff. The company's got a library where people go when they want to work in silence. But if people want to discuss things in a group, they can book a meeting room.
The company never lets its stories die, Airbnb lists one of its core values as being a 'cereal entrepreneur', which is a really quirky way of remembering how it raised funds when they were trying to launch their startup.
Zappos:
Zappos puts in so much efforts in keeping the culture alive. The employees, customers, and the partners at Zappos express their views about Zappos's work culture and behavior that gets published in their culture book. Apart from the culture book, the employees also post their experiences at Zappos in their culture blog. The company's got its own version of Starbucks, Zcafe. The company expects innovative inputs from employees in areas where they feel fit. For this, Zappos organizes campaigns that persuades the employees to take initiatives instead of hoping someone would assign them something.
Zappos is famous for organizing team building activities for its employees, the most recent being the Zappos' live escape game. The reason behind organizing such activities is to embody one of the core values in every employee: Be Adventurous, Creative and Open-Minded.
Convergent Technologies:
Convergent technologies in its early years adopted a strong company culture that aimed to encourage every employee's contribution by appreciating and celebrating their success. The startup had a strange phrase that said, "The Marine Corps of Silicon Valley.". By giving the notion of Marine Corps, tech guys who didn't seem interested in the same didn't apply. The bunch of people who applied were usually talented newbies in their 20s.
The company had a big store of stories that included how the CEO turned a deal from "We're not interested" to a whopping $45 million order in the same meeting. Every milestone and every sale was celebrated and the engineers were treated as heroes. Celebrations came in many faces, from ringing bells and gongs to spray-painting the main hallway. Even if the job description determined the functions of an employee, the behavior defined in those celebrations, stories and milestones defined the expectations.
BUILDING CULTURE IN A STARTUP
SETTING VALUES
A company's culture is defined by the set of values that the founders believed in. The values that made them realize why their product/service has a purpose. The values that every member of the company believes in, which fosters a similar thought-process.
Here's how some of the top companies have defined their culture:
ADOBE:
Adobe states 4 values that tell about its culture: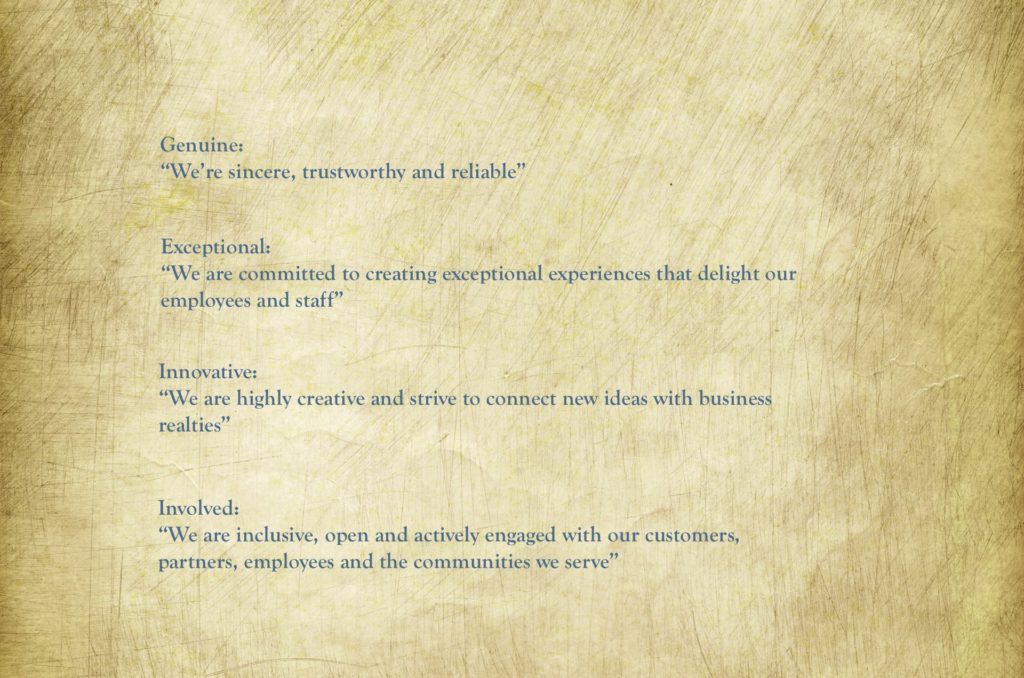 FACEBOOK:
Facebook has 5 strong values that help it to make the world more open and connected.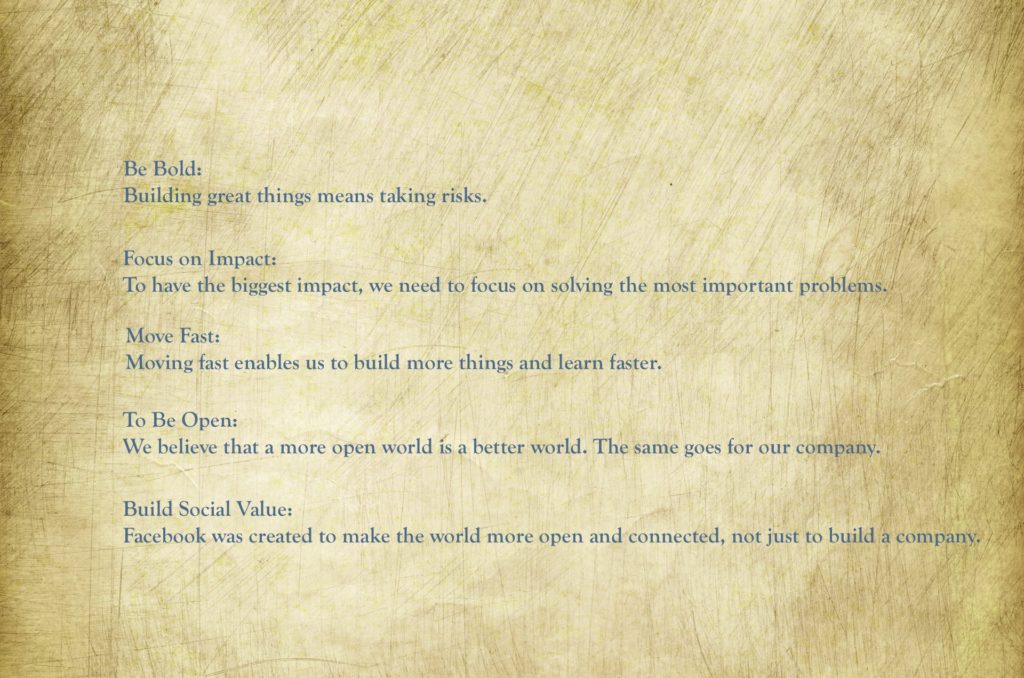 KEEPING THE CULTURE ALIVE
Developing a culture in a company is a continuous process. There's a common misconception that once the guidelines have been defined, the culture will build on its own. But Ross Mason, founder of Mulesoft points out,"Don't assume culture will be organic; culture doesn't naturally develop at a new company. It is formed around the founders and a solid hiring strategy."
Founder shapes 80% of the culture
The company inherits 80% of its culture from its founder. The company adopts the pace of the founder. If the founder is a tech expert, the company will probably have one of the best software in the market. If the founder is a designer, the products might stand apart in terms of creativity. If the founder takes too much time in making decisions, the company will work at a rather slower pace. If the founder takes decisions based on analytics, every guy at the company will take data-driven decisions.
Believing and living by the values
The values are the basis of a culture that's being developed in a company. The culture gets its definition from these values. Every member of the startup must live by these values.
But living by the values is possible only when every team member believes in those values. If a startup hasn't enlisted its values yet, then every member must suggest a value expressing how they perceive the work environment.
Making cultural growth a priority
Gabriel Weinberg, founder, and CEO of DuckDuckGo opts for a different way to boost cultural growth in the company. The founder says, " I have taken to blogging internally daily, which I think has been the most effective tactic. The blogging topics vary but the goal is to promote openness in our objectives and think about some big-picture concepts."