This post is a part of our international off-sites series. To read more about international off-sites at Appointy, check out the following posts about our previous off-sites: HONG KONG: Appointy's 3rd international off-site!, Dubai: Appointy's 2nd international off-site, Singapore: Appointy's 1st international off-site
---
International offsites are usually one of the most exciting events at Appointy – and every one from our PPO interns for the year to the core team members look forward to it.
We usually find out when and where we are going months in advance, and for the rest of the months, you can almost taste the excitement in the office! From shopping and itinerary discussions to learning the French, Spanish, or Chinese – everyone plans and prepares for their own dream trip in varied ways!
2019 was an extra special year because that was the first time we decided to plan an off-site to Europe! With three dream-like destinations of Paris, Brussels, and Amsterdam on the stop, the entire team was buzzing with eagerness to jump on the plane right from the moment it was announced.
So without further ado, let me take you on the journey to experience how going on an international trip with the team that you work with every single day feels like for most of us! Fun stories and amazing pictures ahead…
---
Under the Eiffel in the city of dreams!
Most of us had at some point or other planned a Euro trip, but somehow things don't fall into place for one reason or another. But as a part of Appointy's international offsite, being able to visit Paris became a reality for most of us young dreamers!
Here's what Lav – one of our tech leads shares:
"I have always dreamt to go to Paris ever since I was ten. I was inspired by some of the movies I used to watch when I was little and this dream became reality when we went to Paris for offsite. I was amazed to see the beautiful Eiffel Tower. It looks more beautiful then the photographs and videos. Paris is full of beautiful architecture and museums showcasing fine art from some of the world's most respected artists."
All of us waited under the Tower until it started glittering right at 7 PM for the first time that evening, and it was a sight we wouldn't forget!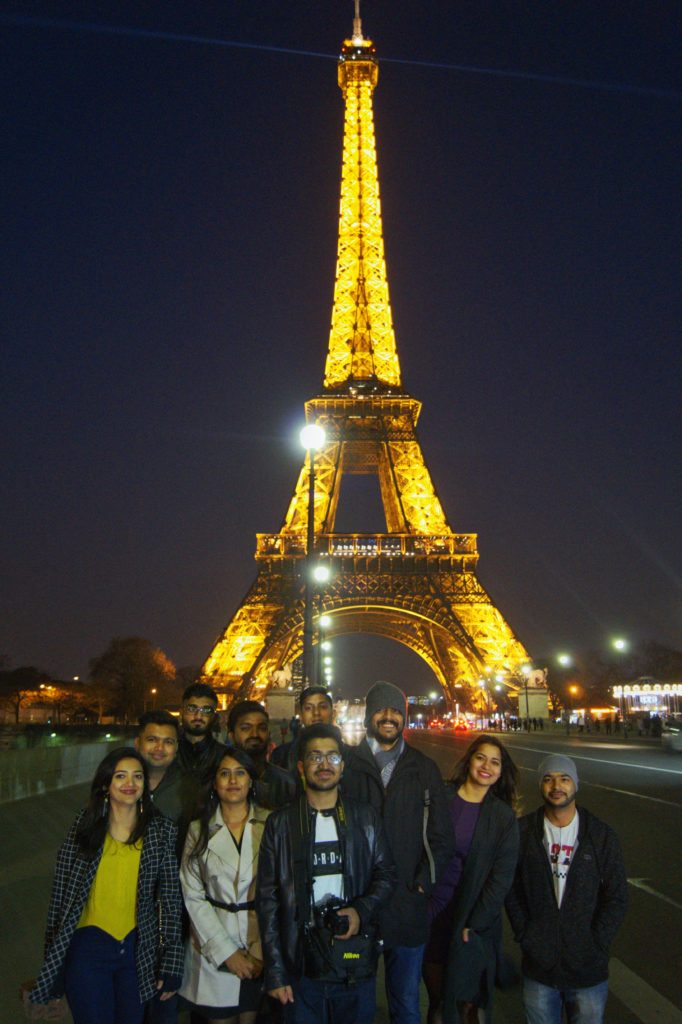 ---
First time Ski adventure
Some of us also went to the nearby town of Mont-Dore for skiing! Here's what Anuj (who was a tech intern then) shares,
"The most exciting event for me was planning our trip to Le Mont-Dore. The snowy slopes of this ski resort were cold (-2°C) and magnificent. Skiing without training was really fun :p and an adventure of lifetime. It was an amazing experience!"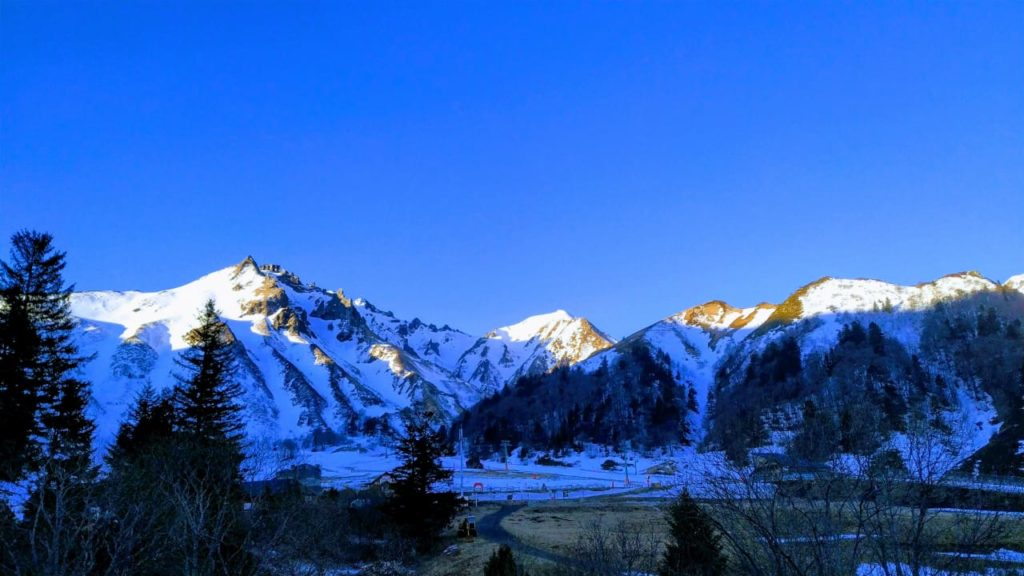 He also shared a GIF of him skiing pretty well for a first timer. Looks fun, doesn't it!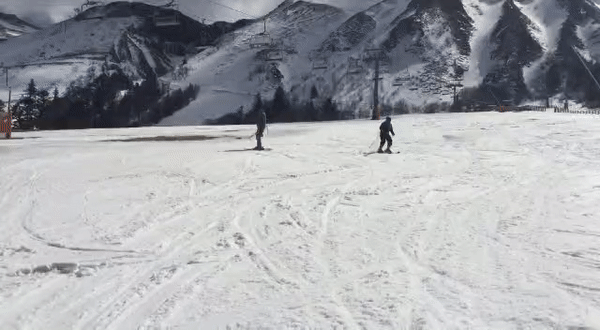 ---
A day right out of a movie
Here's what Lehar from Marketing shares about her Paris experience inspired by her favourite movie:
"Being a big fan of the 'Before Trilogy', Paris was one of the top-most places in my bucket list. I always dreamt of walking down the road that Jesse (Ethan Hawke -) and Celine took in 'Before Sunset' when their paths crossed each other again in Paris after 9 years they first met. To experience that irl was so magical for me!
Anviti and I decided a girl's day out and I really wanted to visit all the locations where the movie was shot. Just like Jesse and Celine we started walking and talking forgetting how many miles we've walked till we reached the famous path they took. We had so many conversations about what we wanted from our lives just like them.
That day walking down the old Parisian streets, I felt like Julia Roberts in Pretty Woman when she goes shopping for the first time. Curious. Free. Independent
We sipped wine in a cute little French bar in Le Marais with a group of French girls, visited Tuileries Garden, sat by the Siene and watched the beautiful sunset, then went to the Eiffel Tower to just absorb the day and see it light up! The day was like a Hollywood Movie.
The best part was going to this old bookstore "Shakespeare and Co." packed with history just opposite Notre Dame another popular spot from the movie. The smell of books and the old early 20th century walls! Ah. Mesmerizing.
Here's the photo gallery that Lehar shared from that day!
---
The happiest place on Earth!
Kalpesh, our design intern also decided to visit Disneyland, Paris and see the fabled fireworks live in action. Here's what he shares about his experience:
"I guess the picture below is saying a thousand words. Star Wars, Marvel, Pirates of the Caribbean… It really felt like being in the Disney world; It was truly a magical experience. The rollercoasters were touching the sky, making me skip a heartbeat at every turn.
And damn those fireworks, the likes of which I had never seen before. Everything was perfect that day, and I felt like hiding somewhere, never wanting to leave."
---
A ride to remember
Here's what Krishna shared about his Ferrari adventure with Gaurav!
"When at Champs-Élysées, the world's most beautiful avenue, me and Gaurav split from others wanting to admire a Ferrari and Lamborghini parked right next to each other. Just as we were heading to join the others, we saw a second set of the same cars only this time something was different. We could ride them. They were for hire. All you need is a driver's license issued by your own nation. I and Gaurav decided to take it for a spin.
We drove it to the Eiffel and back. There were two tunnels in the way with NO SPEED LIMITS. The roar of the engine was magnificent. The brakes on this car are not meant to be used for 50 kph speeds they are meant to bring it to halt from at least 200 kph. When we hit those tunnel, the car speed went from 20 to 200 like my bike's rpm in neutral. I got so pumped that I didn't require my jacket for the rest of the night. I stopped feeling cold."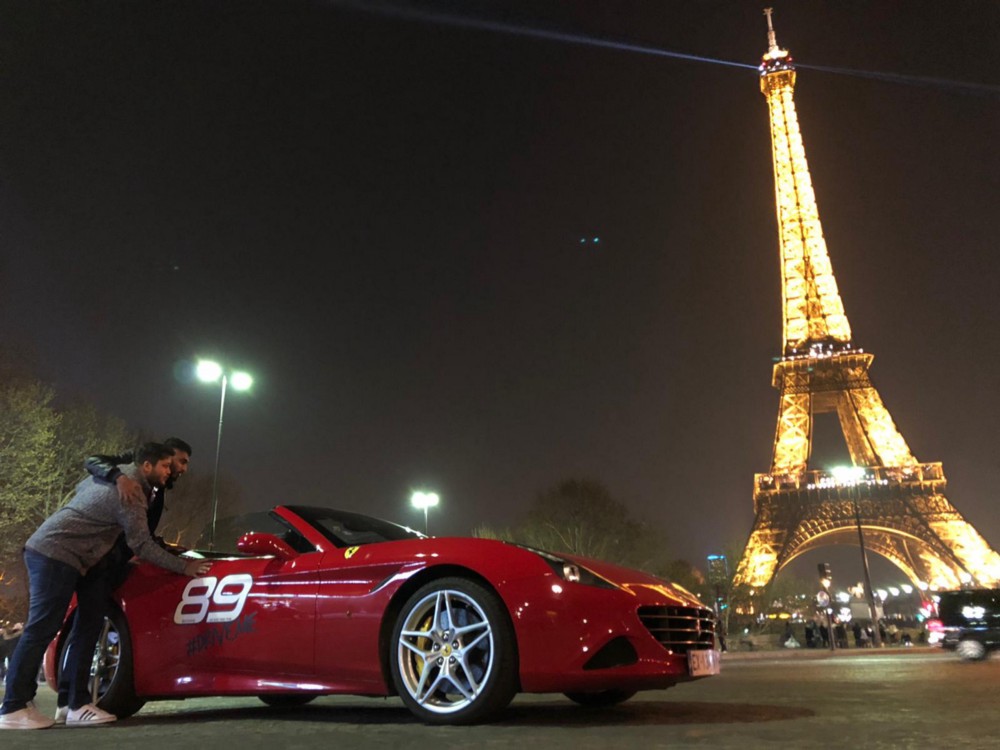 ---
The Belgium Food Trail – Waffles, Fries, Chocolates – and more!
Throughout the trip, we had been ticking things off our bucketlist and as we reached Belgium, it was time to check some more boxes!
Brussels was a food lover's paradise! From waffles at the original waffle shop that was older than the city itself, and the yummiest fries, to the delectable Belgian chocolates that melted in our mouth, our time in Brussels was what foodie heaven is made of! Here are a few snapshots of us waiting outside cafes and running around the streets like little kids!
Here's a very special video where the lot of us are trying to organize an impromptu parade down the streets of Brussels (and obviously, failing!).
Brussels was also very amusing for gaming enthusiasts and movie buffs. Here's what Shan (less popularly known as Shantanu) shares:
"As a kid from the millennial generation grown up watching Disney films and playing EA games, I always thought that the places shown in those films & games were frictional but really got surprised when I was exploring on Brussels's street. I realized that I have seen some of these places before on TV or PC. Straight from virtual to real-world and being part of that real-world feels great."
---
Hello to the party capital: Amsterdam!
Amsterdam is a beautiful city with a great spirit. Being able to visit in your early 20s with your favourite people is what most people dream to do – and we could live that dream!
We spent entire days lazing around out on the grass next to the canals eating pizzas. We also got to visit the famous Red-light district of Amsterdam on our first night there and parties the rest of the night away!
Here's a picture gallery from our time in Amsterdam!
---
So well, that was it about our stories from the last offsite! We are really looking forward to the next one – super excited to find out where we'll go next!
Let us know your guesses, suggestions, and what you think about our experiences in the comments below!