This post is a part of our international off-sites series. To read more about international off-sites at Appointy, check out the following posts about our previous off-sites:  
Singapore: Appointy's 1st international off-site 
Dubai: Appointy's 2nd international off-site
---
Annual International trips with the team are a defining part of the team culture at Appointy and a much-loved tradition.
It has been three years since we started organising them. After having visited Dubai, and Singapore, this year's trip to Hong Kong was our third international off-site with the team.
One special addition this year was that all employees were invited to bring their families along on the trip.
And just like last time, we also invited our PPO candidates to join in on the trip. This time it was the intern from our Enterprise Team, Gaurav. Wait up for a blog post on his Hong Kong adventure, which was also his first travel experience abroad.
---
Before I tell you all about our awesome trip, check out this awesome Hong Kong video by our video-star Soaham:
Why Hong Kong?

Modern destination: We are based out of a beautiful Tier-2 city and can visit dams and resorts for weekends. Also, one of the most important objectives of our annual international off sites is learning new things. Hence, we always tend to choose places that are progressive, developed, and basically in a different setting from where we live, so that our team gets the opportunity to learn by observing.  Hong Kong, being Asia's global city fit our requirements perfectly.
Ease of travel: As I mentioned before, this time we were travelling with families and kids. Hence, it was important for us to keep in mind the convenience of the little members of our crew. Ans so, we chose a destination that was well connected and only a short 5-hour flight from India.
Lenient Visa Policies: For Indian nationals, getting into Hong Kong only requires filling an online form prior to the visit and obtaining a Pre-arrival registration receipt. For such a large group travelling together like ours, getting a VISA for say, Europe would be tough and time-consuming. Hence we opted for a destination with relatively lenient VISA policies.
---
Hello Hong Kong!
Travel in a large group is fun. But just like everything else, it brings with itself unforeseen circumstances.
From kids jumping over the immigration line to one of our interns forgetting a print of his VISA, there was a lot of stuff that eventually left us exhausted and perched up on Hong Kong's airport floor. Like this: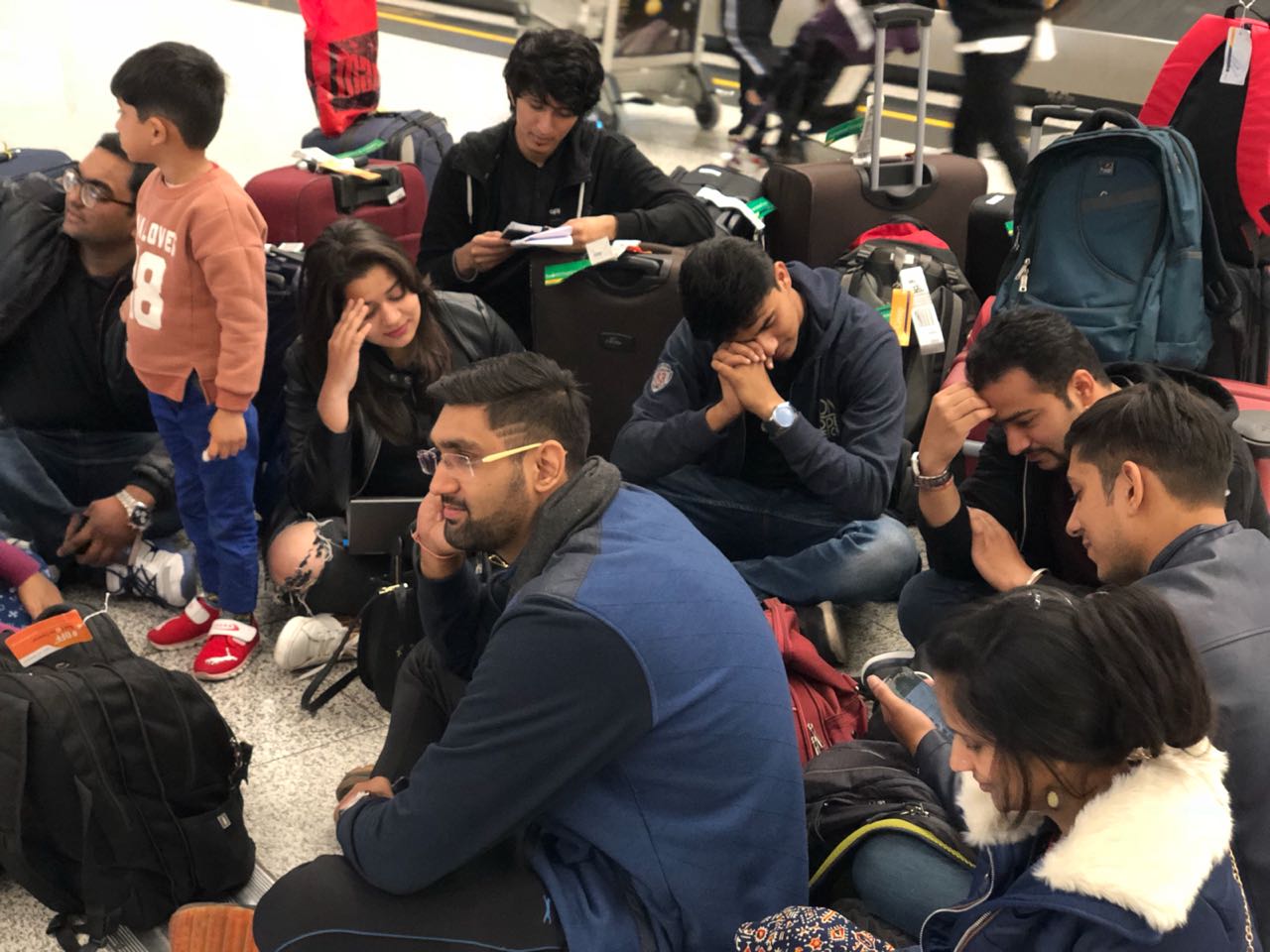 Hong Kong was a city of shiny skyscrapers, street food, and lots of tourist attractions. I've done my share of travel but I've never before seen a city that combined the ultra-modern sky-high buildings with the raw natural beauty of hills, forests and beaches. Here's the first picture of Hong Kong that I captured from the private coach that dropped us to our hotel.
We checked into our hotel at around 4. While rooms were assigned to families with kids earlier, when we walked into our room, it was well past 5.
It was also very cold and windy in Hong Kong which made us worried for the kids. But as you'll find out further, no one backed down from sightseeing.
Sightseeing
The Symphony of Lights
My research had told me that Hong Kong was a city of many tourist spots. As a result, our itinerary was packed and soon after settling into our rooms, we left to witness the famous laser light and sound show.
We watched it from the Tsim Sha Tsui Promenade, which we later realised was also the most beautiful promenade in Hong Kong and neighbour to bustling shopping streets. Look how cute everyone looks posing for pictures at the lit promenade!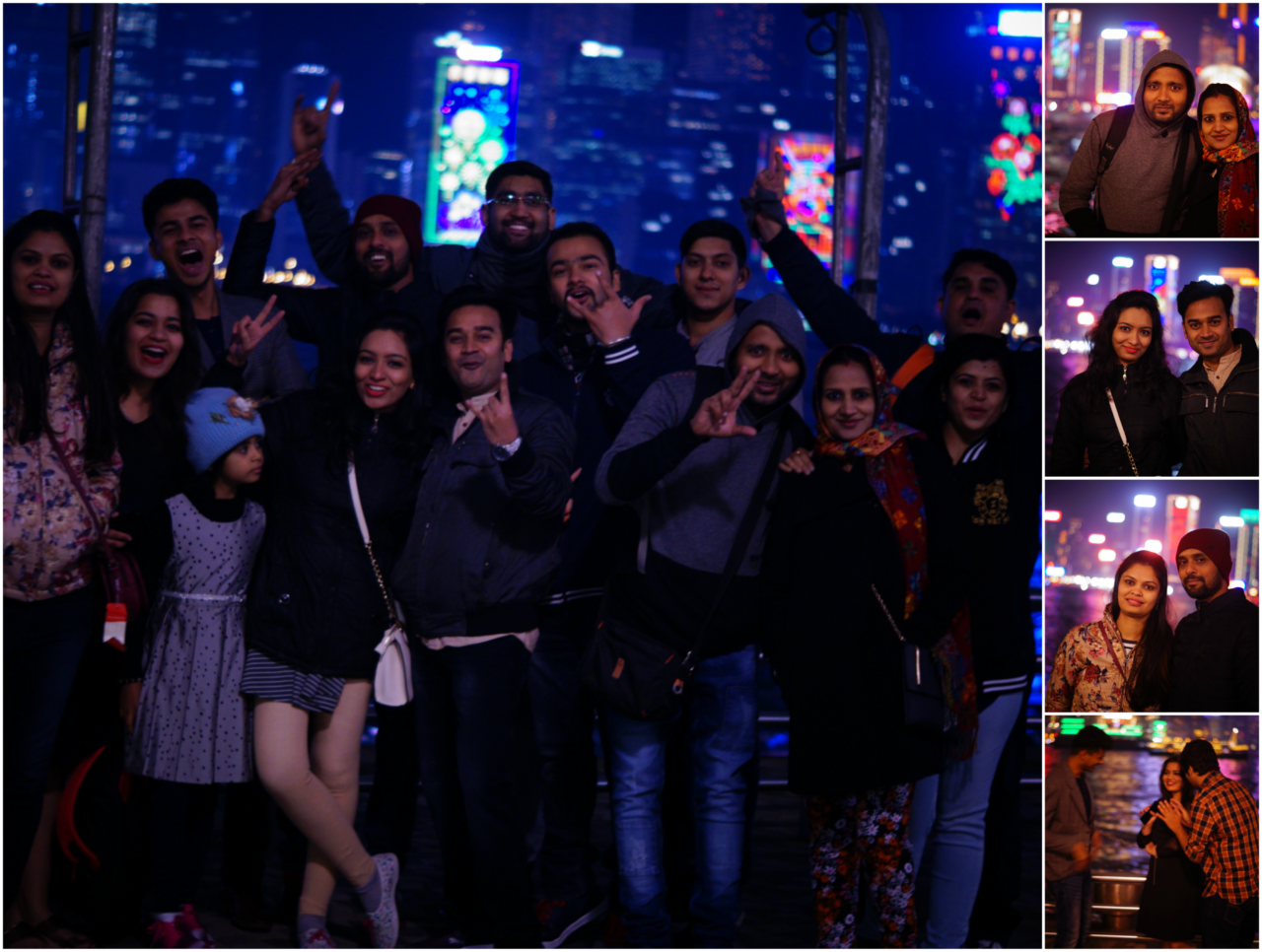 Tian Tan Buddha
The Big Buddha statue on the neighbouring Lantau island was amongst the top attractions in Hong Kong. So that was what we did on our first day.
And the place was a hit with children. They really enjoyed the 30-minute cable car ride with a glass bottom.
This, along with some really good Indian food near the statue was the best part of the place.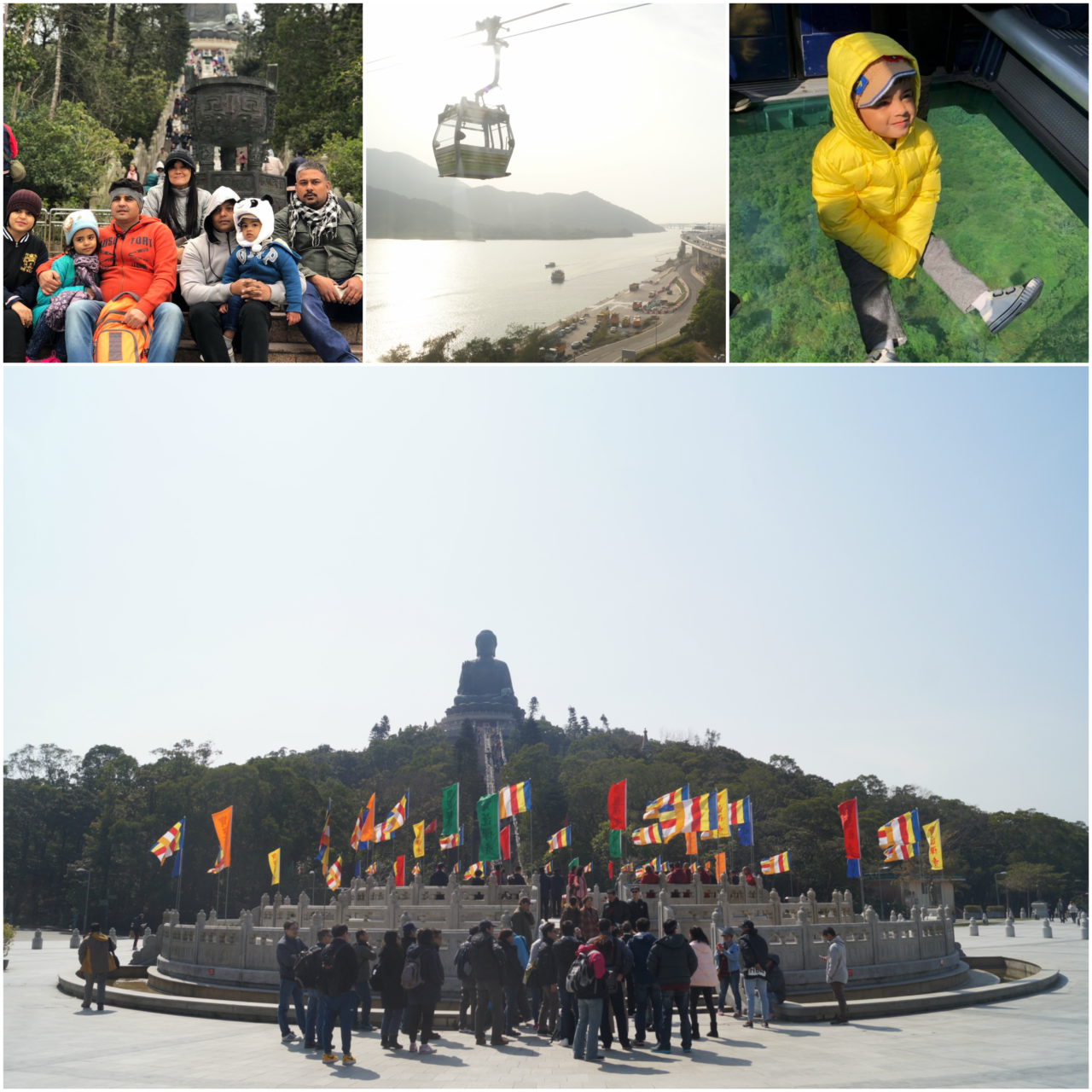 Disneyland
For kids and grown-ups alike, a trip to Disneyland was probably the happiest day of our trip.
Visiting Disneyland had been on my bucket list ever since I was 6 years old. And to visit there on a company off-site with some of the best people was a dream come true.
I remember how much fun all the parents in our group were having, running around with their children like they are little kids themselves. Everyone, be it the old or the young, bought Disney balloons and Mickey Mouse headbands. It was also a great place to bring back slightly expensive, yet delightful souvenirs that'd make great gifts.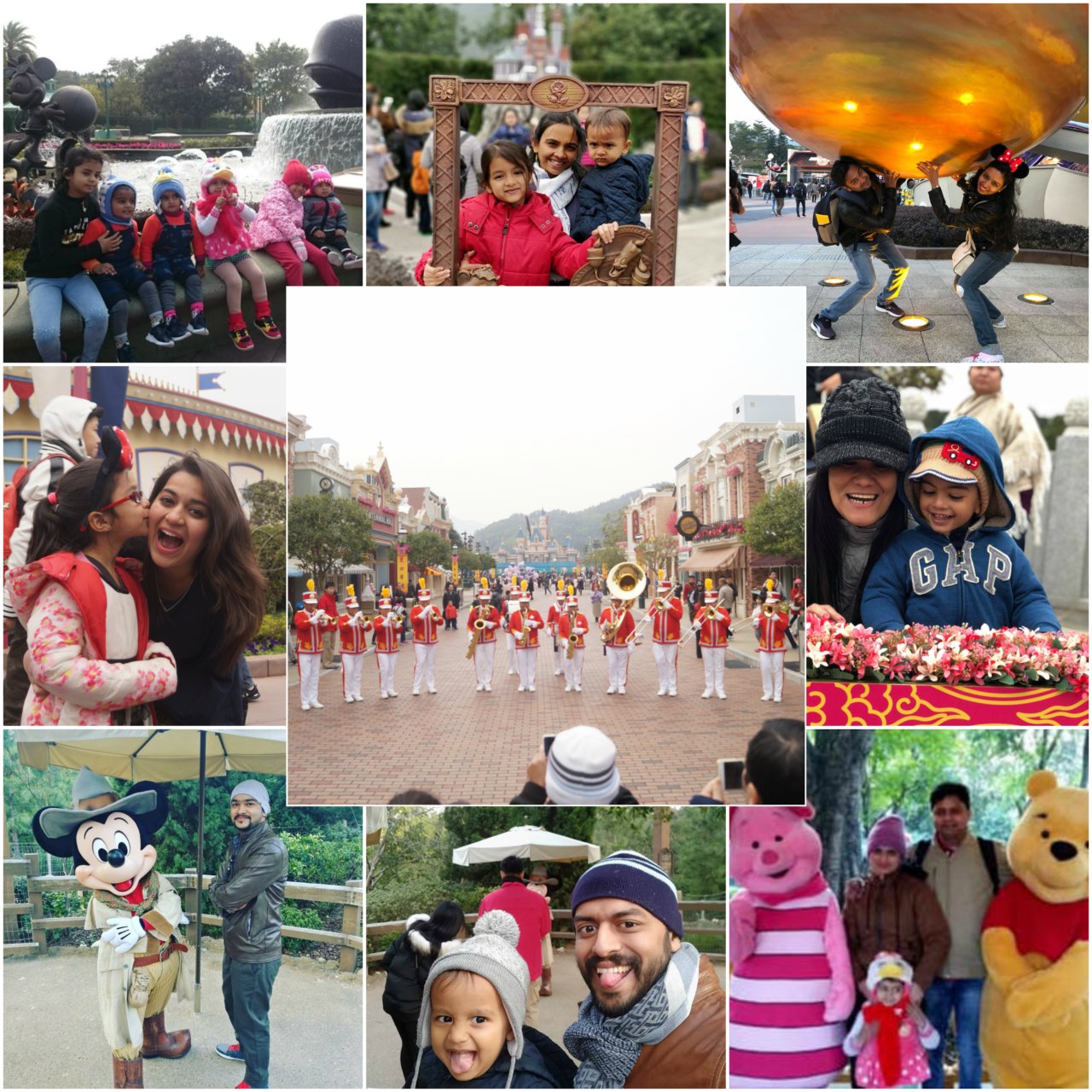 Peak Tram and Madame Tussauds
Peak Tram was Hong Kong's oldest tram ride that takes people up on the famous Victoria peak at a 45-degree ascent for a breath-taking panorama of Hong Kong's skyline. All the poster images of Hong Kong tourism are clicked from here. There's also a Madame Tussauds museum up there that some of visited and clicked a lot of pictures.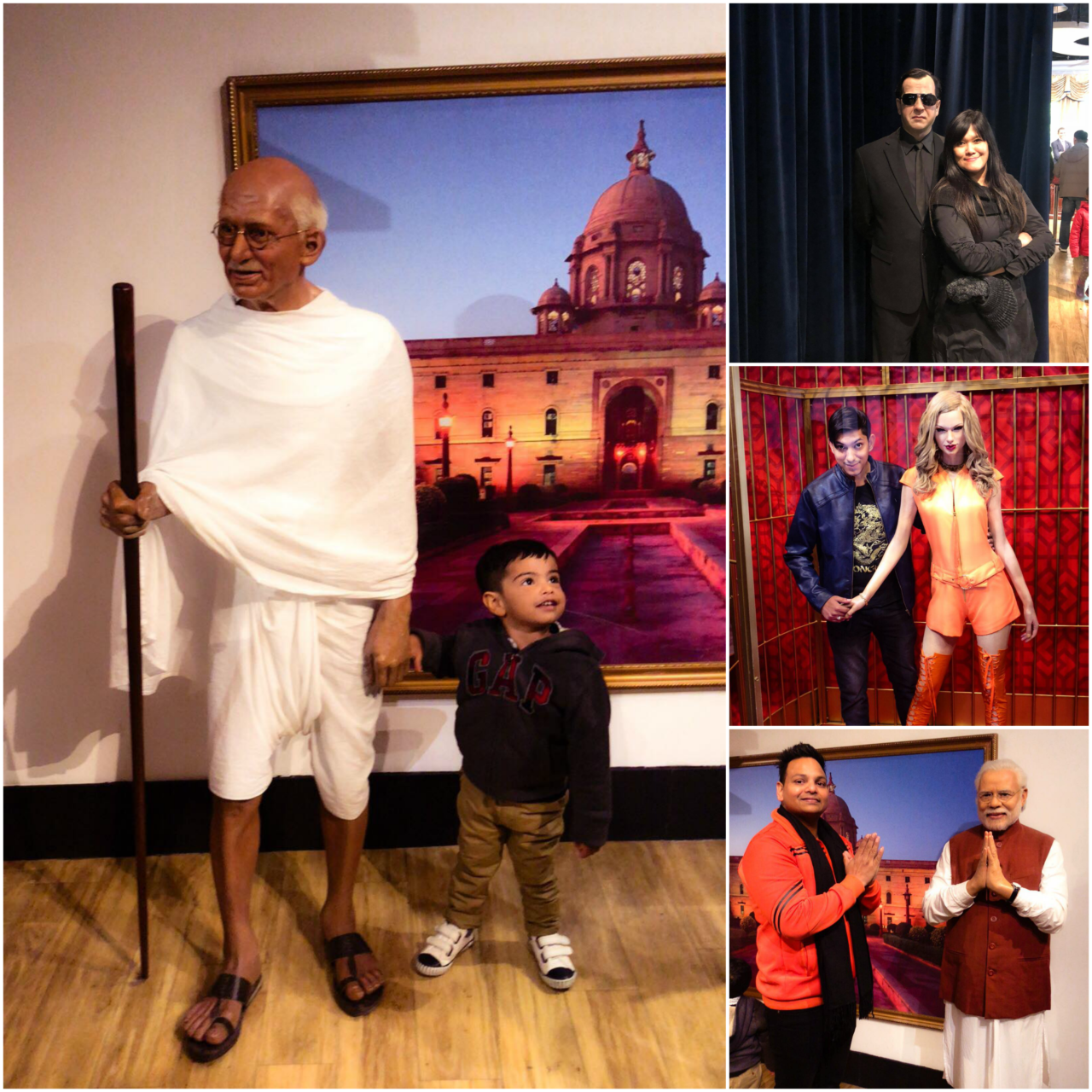 Another famous attraction on top of Victoria Peak is the Trick-Eye Museum. Quirky 2-D paintings that give a 3-D illusion and lots of places to get fun photographs made it one of the kids' favourites.
Mongkok: Nathan Road, Tech Market, and Sneaker's Street
I haven't been to Times Square, New York.
But those who have been there said that the main square of Nathan Road, Hong Kong's metropolitan heart, looked exactly like it.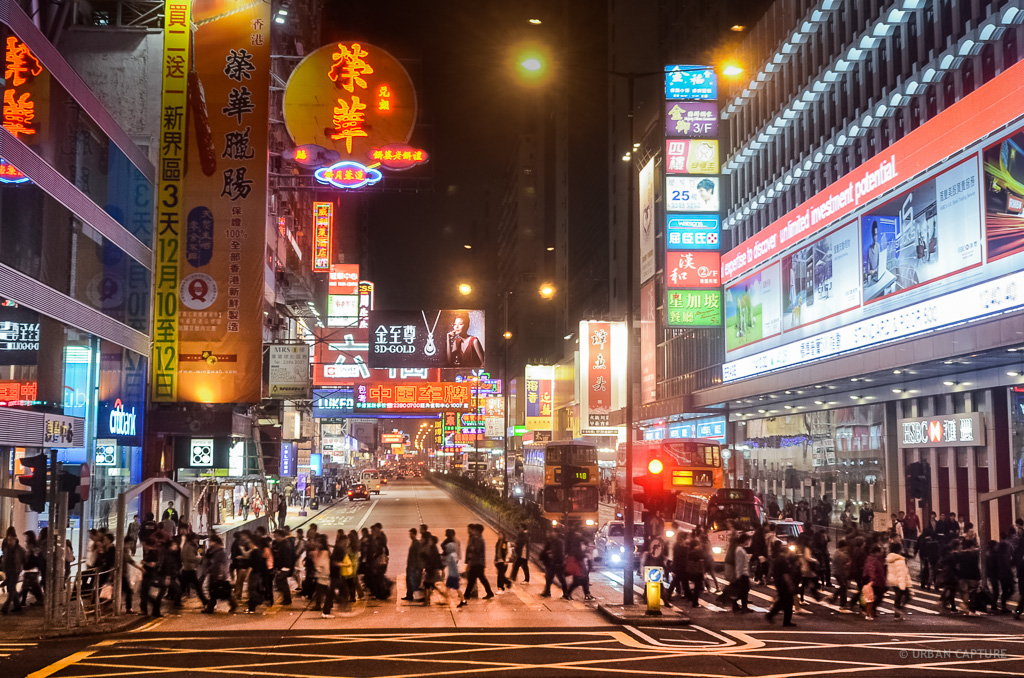 I was lucky enough to visit it on a Sunday evening. The entire crowd of Hong Kong showed itself in its full glory and the entire place felt like it has come to life. There were multiple impromptu performances breaking out at random crossroads. I even danced a little bit in a flash mob and clicked a photo with this gentleman dressed in a very colourful suit.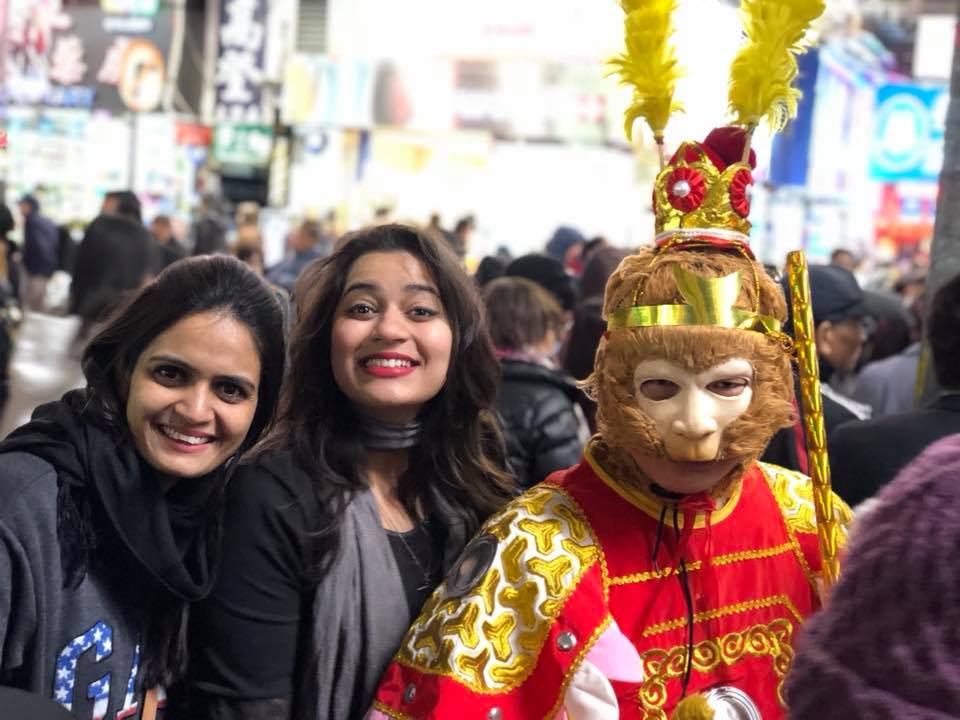 Around the same area as Nathan road was the crowded street which was home to the tech market of Hong Kong. Most of us only went up there once and returned disappointed as we were hoping a significant drop in prices of electronics as compared to India. But one of our team members, Soaham had been there 4-5 times during his entire trip. He also bought a speaker that looks and sounds like a beast.
There was also a Sneaker street in the area. According to a blog I read, that's where entire Hong Kong goes for its sneakers. Two of my friends bought 4 pairs of sneakers each from there which made great gifts for their family.
Party scenes 
For me, the thing that I loved about Hong Kong was its party scene.
Those of us who could, used to do all sorts of touristy things during the day and visit the many, many chic clubs of Hong Kong in the night.
One of the great places that we discovered was in the Tsim Sha Tsui area, called Knutsford Terrace. It was an open terrace street with a number of happening bars lined up side-by-side. The first night we went there, it was on a weekend. We scrounged through the street for the loudest place we could find.
At the end of our quest, we discovered The China Bar. It was packed with people and had a live concert going on. We loved it so much there that we visited it thrice, with a different set of people every time.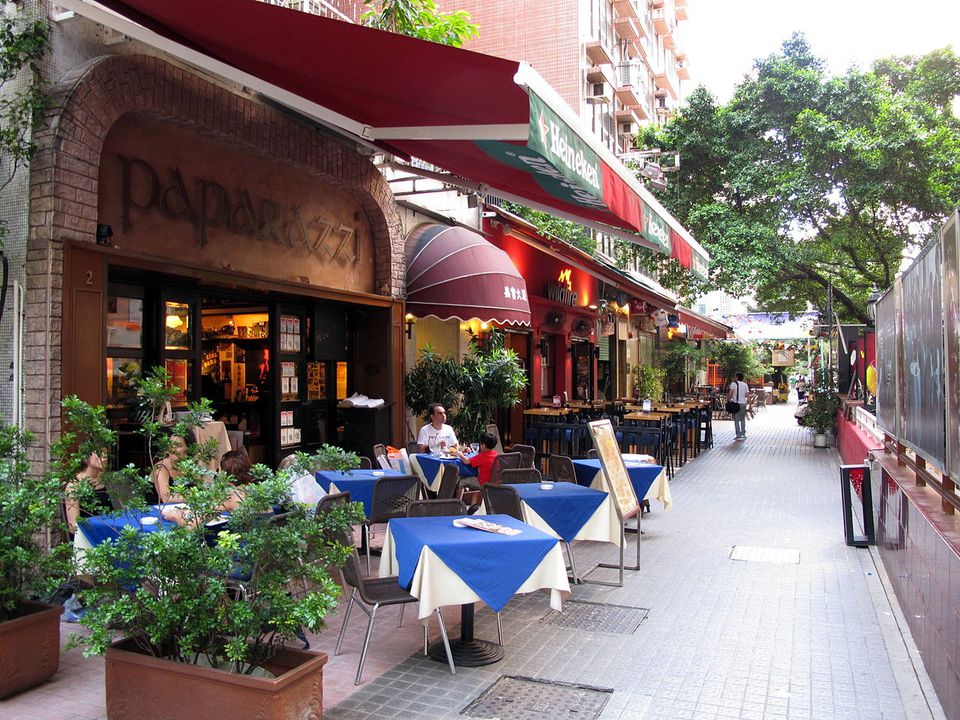 Macau
Macau is another island that is just a one-hour ferry ride away from Hong Kong. It is also famed for being the Vegas of Asia. With some of the biggest casino hotels in the world, including the Venetian, the Parisian, and the Galaxy, we definitely didn't wanna miss visiting it.
We had heard that Macau can be seen in its full glory only at night time, and so we left our hotels well after 12. Since we had planned we would spend the night in Macau, it was only wise to sleep through the morning.
Having kept some buffer time for local sightseeing in Macau, we reached there well before sunset and explored a few attractions such as the Macau Tower, St. Peter's Cathedral, Senado Square, etc.
But as soon as night fell, the city lit up like a Christmas tree.
Random streets and squares in Macau were adorned with colourful fairy lights. For a photo maniac like me, every corner seemed like a perfect place for a full-blown photo shoot.
I don't know whether it was because the Chinese New Year celebrations were kicking in or because the city is just normally lit-up like that.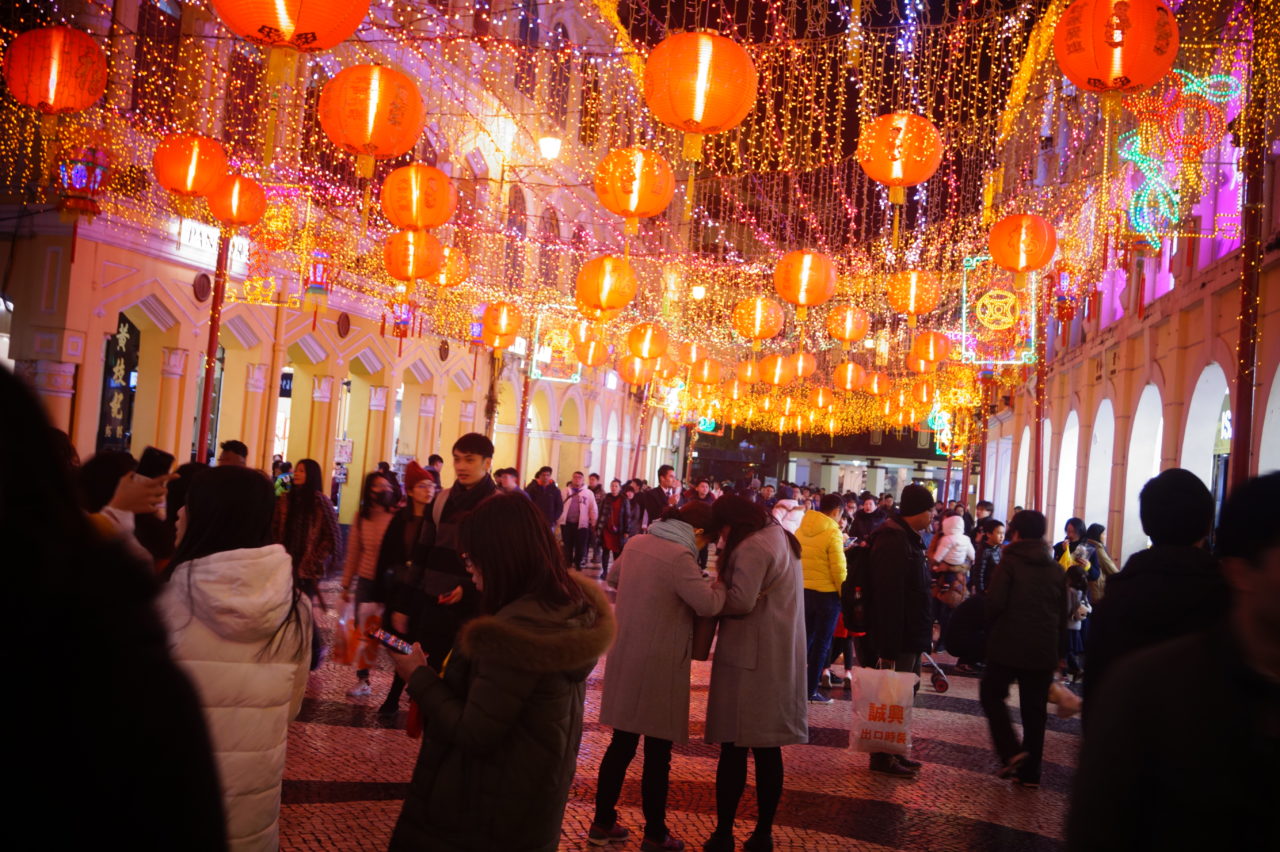 While still in our cab, we watched in awe as some of the biggest hotels in the world came to view. We started exploring by entering the Venetian.
It had the best decor I had ever seen. It was designed just to look like Venice. Roads in painted cobblestone, a false ceiling which resembled daytime with birds chirping, a canopy of pink carnations, and real canals with gondola rides: all built right inside a hotel.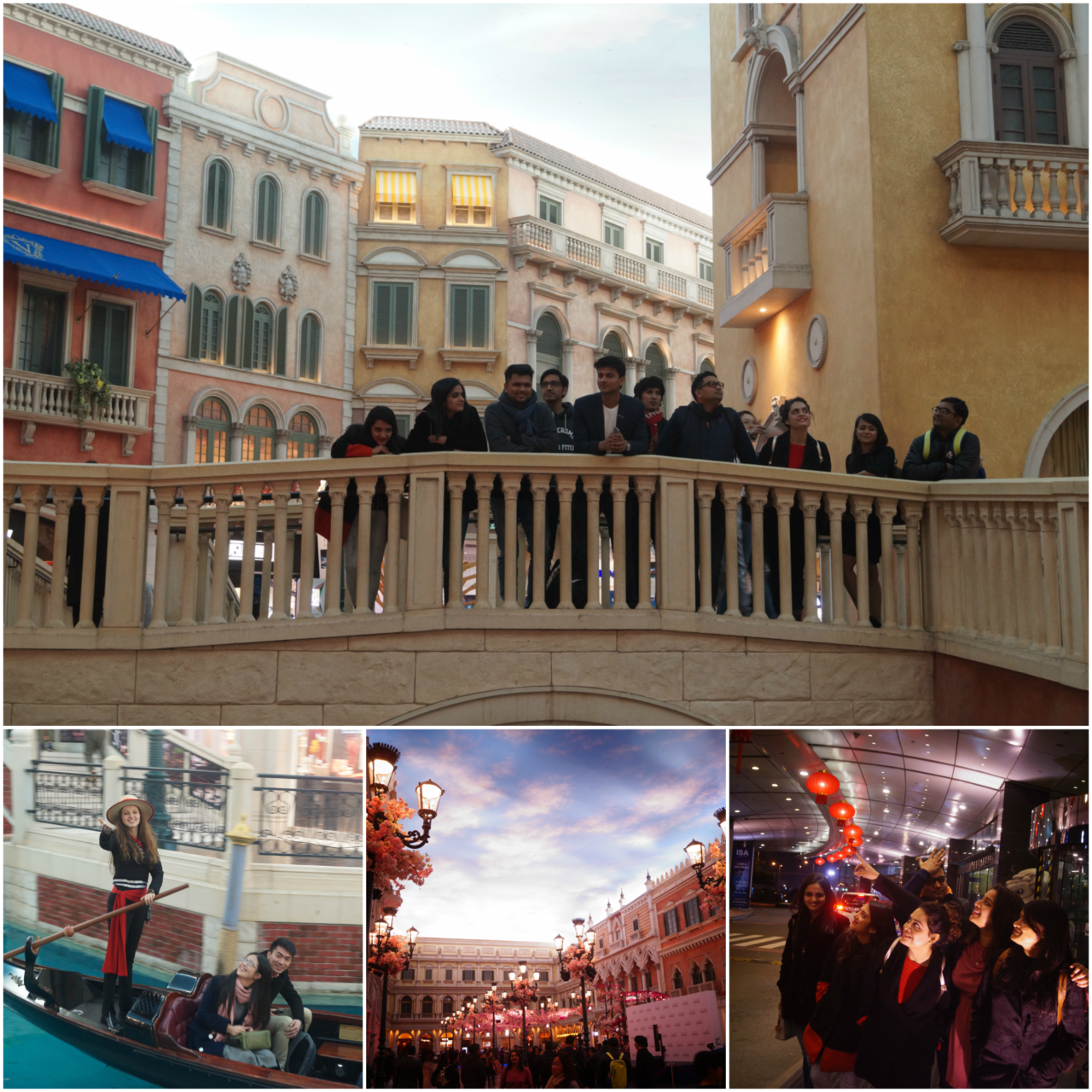 Next, we saw a miniature Eiffel Tower replica at The Parisian and an amazing chandelier show at the Galaxy.
Some of us also tried our hands at gambling in the casino at the Galaxy and made a little fortune.
---
What does the team say?
"Going out on office trip with families was an entirely new experience. Everyone, including my little daughter, was filled with excitement and walking an average of 10 km every day. Organising a trip overseas with kids is usually a challenge. But with large group backing us, we had no difficulty managing anything. The trip was amazing." 
–Khushal Patel, CTO, Appointy 
"This was my first trip with Appointy and my first international trip as well. It's one of the coolest perks anyone could ever have while still being in their internship phase. Travelling with such a fun and energetic team was a truly amazing experience. I just can't wait for the next one!!!" 
-Gaurav Charokar, Intern, Sales & Marketing, Appointy 
---