If you're reading this blog, chances are you're either:
A graduating student, nervous and trying to get things right in the first shot.
A graduate, trying to figure out your mistakes and a way to correct them.
A parent or a friend of either of the two categories above in hopes of giving out some life-altering advice.
A friend of mine whom I've been blackmailing for the last half an hour to read this blog.
Well, all of you are in the right place. I had this discussion with Nemesh [CEO, Appointy] yesterday while having lunch. He generally has great advice for everyone but this one really struck some chords as I'm a graduating student myself.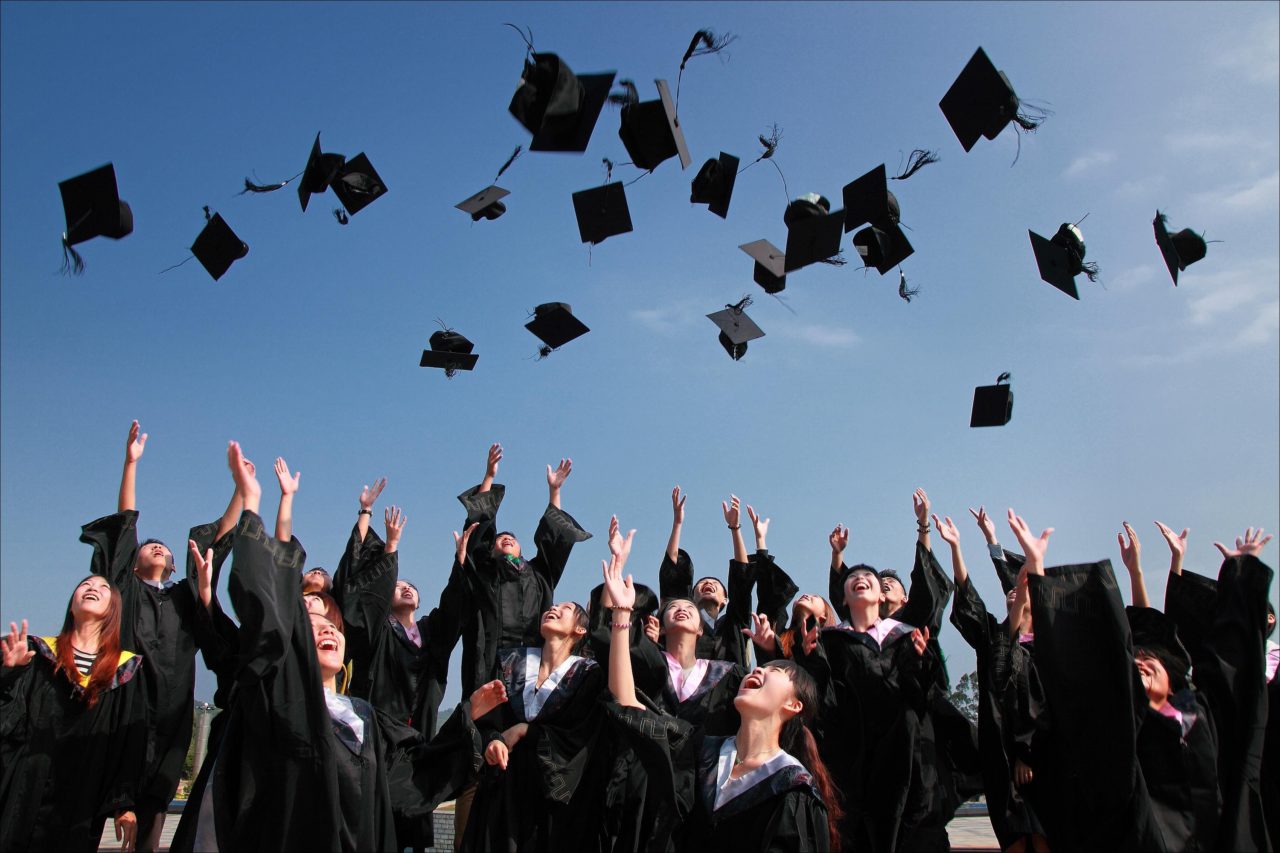 ---
'I'm worried'.
'About meeting this year's objective?'. I took a wild guess at Nemesh's remark. I knew it wasn't the right guess, but oh well, my excessive class participation tendencies compel me to always be the first one to react to something. It's annoying. I know! ????
So yeah, Nemesh obviously refused that it wasn't the cause of his worry.
'I'm worried for you and your classmates. Basically, everyone who is graduating in the next couple of months.'
'Oh, you don't really have to be. All of them have been placed in reputed companies and have huge plans for moving into new homes in new cities.'
'That's exactly what I'm concerned about.'
'Really? Why??'
'Let me tell you what happens every year at this time when countless students from Tier-2 colleges in India graduate!
Let's say it's a guy. His name is Rohan. Right now, Rohan would be really emotional about leaving college while at the same time secretly excited about finally moving to the big city and setting up his bachelor pad. ????
When Nemesh said the word 'bachelor pad', this instantly popped up in my mind! I just had to share it here.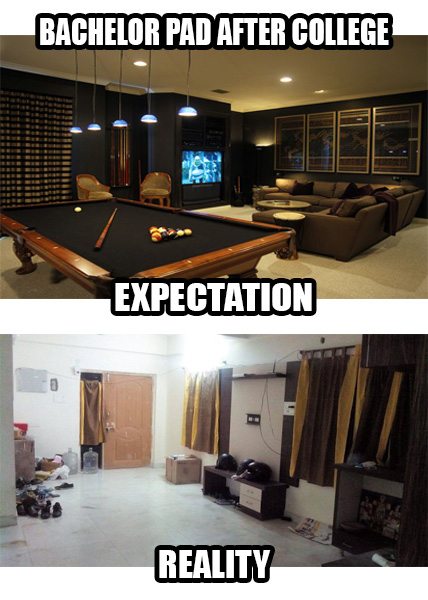 *Over to Nemesh again*
Fast forward a few months, Rohan bids farewell to his beloved college friends and reports for the company's training program. A couple of months fly by as he gets a taste of the good life in the company's all-paid-for hotel. He's finally assigned a big metro city where he starts working full-time. His company doesn't pay for his accommodation anymore. Obviously, his fresher's salary does not allow him to afford a 1 or 2 BHK apartment in an Indian metro all by his own. So he looks for roommates.
So far so good. ✌????
A couple more years pass by. Rohan has worked his butt off in his company, has even earned some promotions. Life is going alright. Not awesome. Just alright. Rohan thinks that he has learned all that he could from the company and starts planning a switch. He makes a list of companies which could offer him better learning opportunities and thinks about applying.
Rohan joins a new company which doesn't offer him a grand salary hike but is great for learning. He loves the new place. Life's good. Not awesome. But good.
Soon, Rohan gets married. He enters a new phase of life. New apartment. New people. New everything. Since he's no more a bachelor, he thinks about getting himself a permanent place. Rohan decides to buy a house. He applies for a home loan, gets the money and buys a house. It's all rainbows and butterflies. ????
Until…
Until the home loan EMIs start kicking into the monthly expenses. You might not know it now, but home loan EMIs can take away a big chunk of your salary. It takes people even decades to repay their home loans. Rohan starts stressing out. He loves his current job but needs a raise. Hence, he's compelled to switch. More importantly, he's compelled to switch for money instead of knowledge. ????
And that is the biggest mistake anyone of you can ever make during your career.
'But that's alright, Nemesh. So, we won't buy a house. Problem solved. No big deal.'
'The house is just an example. It's symbolic of the baggage we create for ourselves'.
What seems like a necessity at one point ends up becoming a liability which makes you compromise your career. It could be anything. A house, a car, even a holiday. It's not like these things aren't important. But at this, or at any point in your career, no amount of money should substitute for better learning opportunities.
Right now is the time to live in a dorm with three roommates and work for the life you have dreamt for yourself. This is the age when you can eat junk food and work 14 hours a day. Some of our own interns are a great example of this. Hariom has been a rockstar these past few months. He played a legendary role in re-inventing Appointy after we scrapped off the 9-year old code.
So, I'm just worried that most of you don't realise that. I've made my share of bad decisions and I hope none of you repeats them. So here's my advice:
Don't let anything come in between your learning. Focus on the right things and success will follow you. Keep your focus off money right now. Not on earning it and certainly not on spending it.  Work hard, keep learning, and well, never, EVER buy yourself a house. ????
*slow claps*
---
This discussion made me re-think about a lot of things. But I think I agree with Nemesh. Let me know what you think about it in the comments. ☺️
Also, happy graduation! ????