In a world of self-taught millionaires, it's easy to believe that anything is possible.
---
This is probably the reason why almost every college student today has high-rising dreams.
I bet you're one of them!
And why shouldn't you be! After all, be it the dream of working with Google, driving a Rolls Royce, or bi-annual trips to the US and UK, people around you are doing it all.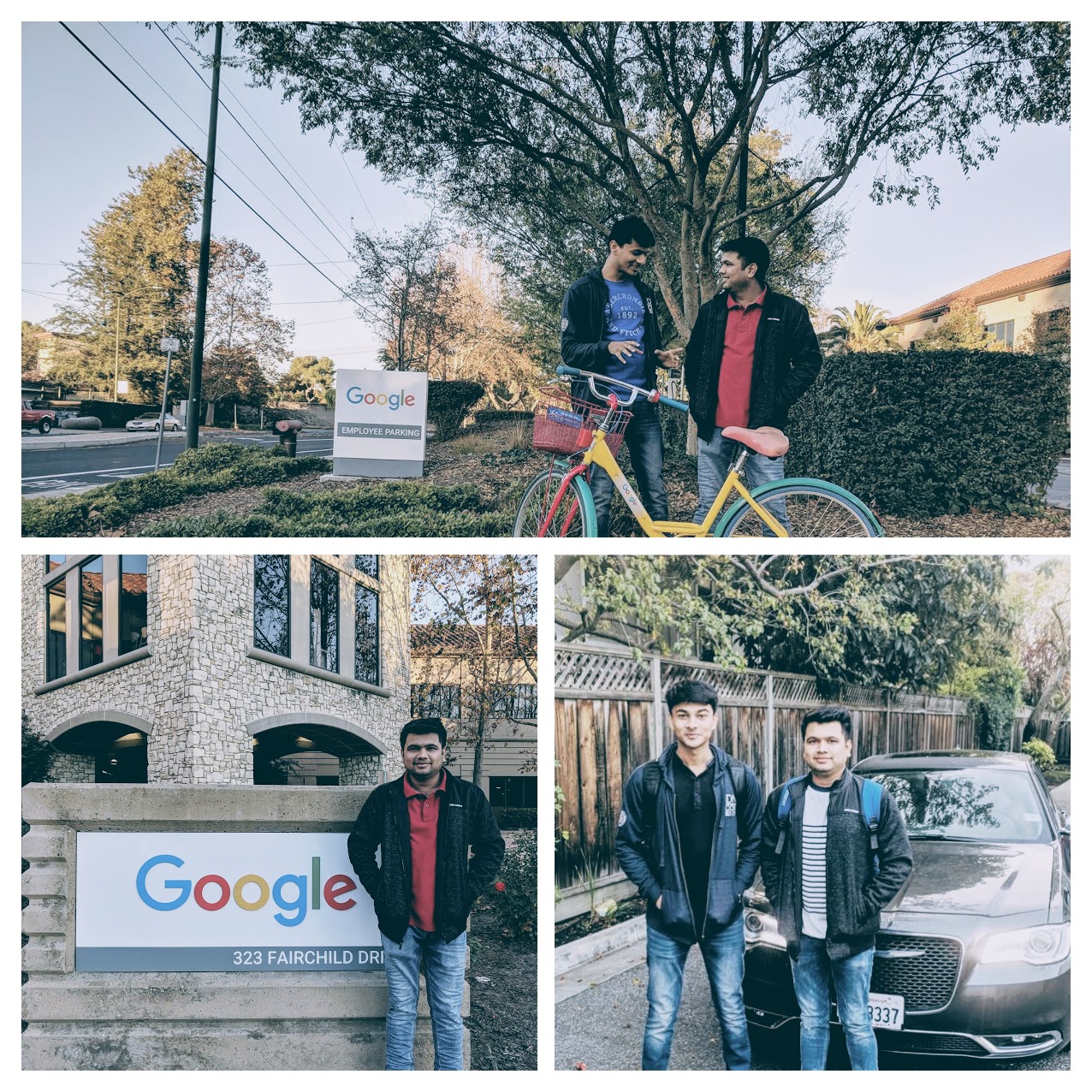 But do you have a REAL plan that will help you to fulfil your career goals?
And more importantly, are you getting the kind of academic support that'd allow you to compete with a million others who have the same dreams?
Think about it,
Can classroom coding get you into Google? Is the same-old college education enough?
…
This is the challenge:
When we set out to hire interns from MANIT (and some other colleges of Bhopal), the initial response from students was overwhelming. Our first batch of interns gave us some of our best young employees who are cracking million dollar deals, creating products from scratch, and managing entire teams of their own!
But as we recruited more interns, we realised two things:
First: Most students in engineering colleges have a brilliant general aptitude and are very talented.
Second: A lot of them lack a certain direction and mentorship from someone who is working with the latest technologies.
With a college education system that teaches little outside the books and the baffling array of information available on the Internet, it's hard for students to make the right choice.
As a result, a lot of them are uncertain about the decisions they are making and end up in a monotonous job in a 5×5 cubicle in some bustling metro city.
And don't get me wrong, there's nothing good or bad in that life. The only problem is when we are young and in college, we dream of doing something bigger. And this life makes it harder to take the risks to fulfil those dreams.
While some people are able to move on and take risks to achieve their dreams later in life, some others find it impossible to find an escape.
And essentially because they lacked the direction to make the right choices at the right time.
…
So, here's a solution:
Appointy Developers' Certification is a step towards providing students (like you!) with the right training and mentorship so that they have the knowledge to move forward in life with the right choices.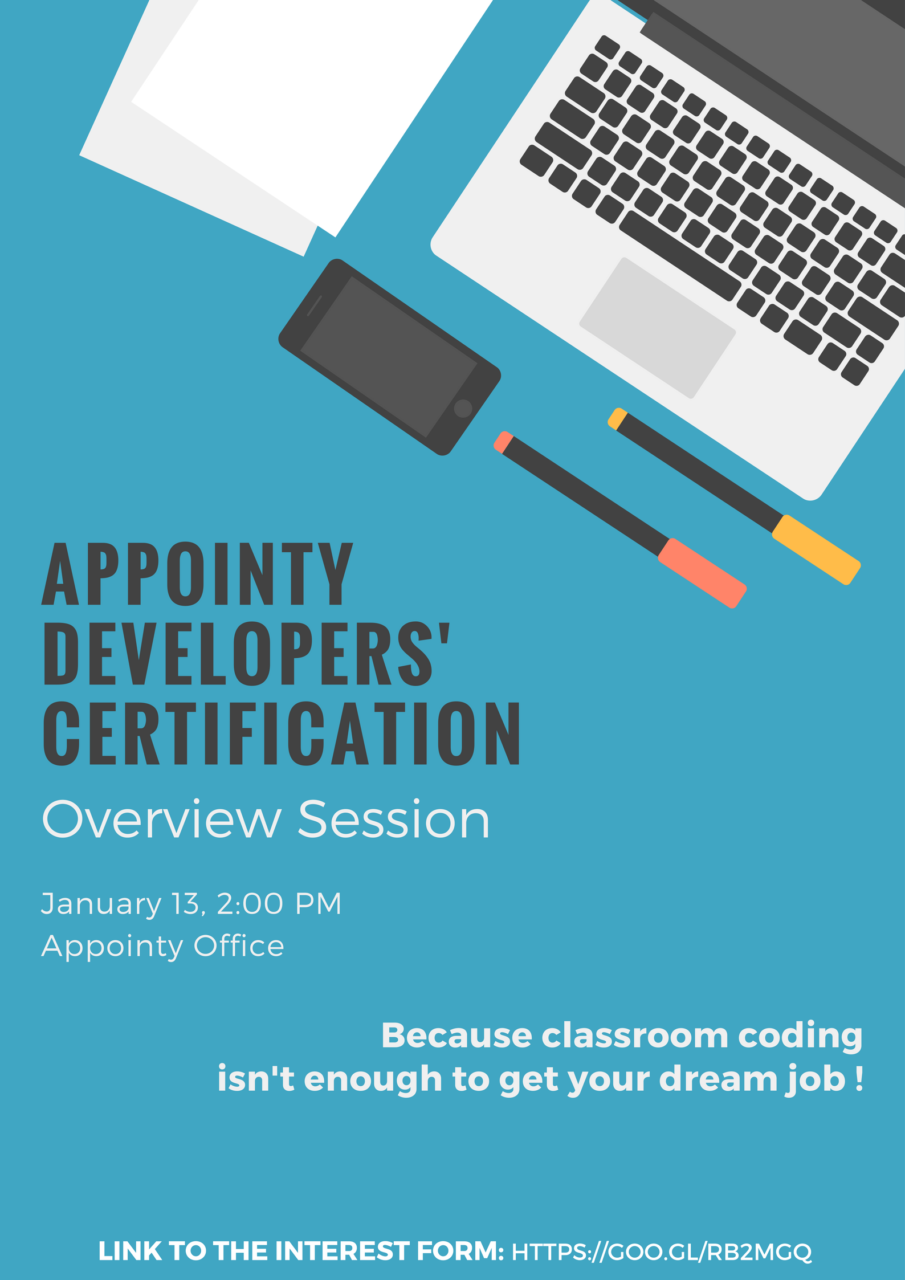 What exactly is Appointy Developers' Certification?
"Training, Certificate, Mentorship…Wait! What was it again?"
Appointy Developers' Certification is a series of certified, in-person training courses in specialised topics that matter not just in theory but in the practical world too.

It aims to answer some of the most important questions about technologies that make up the present and the future. (Think AI, cloud computing, blockchains…and a developer's role in all this).

Doing these certifications is absolutely free.  
Who will teach these classes?
"Not another professor, please"
These courses will be taught not by some experts or teachers, but by real-life tech-superstars who are the actual brains behind Appointy.
These are the people who have spent years and years tackling problems with software, security, and the ever-changing technology to build a product that is today capable of earning millions of dollars.
What's in it for you?
"Can it really help me land my dream job?"
It'll definitely give you an edge over your competitors. Here's how: 
Professional certifications to tell the world you mean business: The Appointy Developers' certificate will be an indicator that you are professionally equipped to work in the technology that you're certified in.
A unique Resume point: Each Appointy training will be followed by a personalised assignment for which you'll be mentored by our team. Once finished, these assignments will serve as a strong and unique Resume point. (especially for people who are looking to pursue higher studies. Project-based work is game-changing in University applications for both India and abroad).
A trump card to ace all interviews: Every intern who has ever worked at Appointy would agree at one point: A few days of working with the team gave them a lot to talk about in their placement interviews. All of our intern alumni are currently well-placed and making us proud all around the world.
A better chance at grabbing an intern at Appointy: Equipped with all the knowledge from our team, you'll have an edge over other competitors while appearing for the Appointy internship interview.
A push you know you need: Most of all, it will give you the chance to actually get out from your rooms and do something in the real world.

No more sitting around and reading about college students who are running startups from their hostel dorms. Time to be one of them!

😎
The best thing is that Appointy Developers' Certification is free and you get a professional certificate for every training that you complete. Needless to say, the more you learn, the more you'll have to show the world.
Take the risk and work hard now. You're young, full of energy, and have time to spare to learn. You got nothing to lose.
It doesn't get better than this. Seriously! 
How to register?
"Okay, I'm in! Tell me what to do."
Fill the Interest form from the link below (takes about 2 minutes): 
Once you've filled the form. we'll send you a link to book a slot for the first session to be conducted on Saturday (January 13, 2018). We've limited seating and are taking attendants on a first come first serve basis. Don't wait up, Register soon!

Make sure you fill your correct email address and check your email regularly. We'll email the link to the email address that you provide within 2-4 hours.

Next, we'll also send you an invite to a secret Facebook group. All future updates, discussions, and schedules will be posted on the Facebook group. So make sure you join it.
Who can join the certification program?
"Wait, am I even eligible?"
This is my favourite part!
The certification is open to students in the second and third year of college (from any branch). 

The training will start from basic classes that will teach you everything from scratch. However, there are some absolute basics that you'll require to sit for each training. We are going to cover that this Saturday in the Overview session. So, don't miss it! 
…
Final details:
Date: January 13, 2018
Time: 2:00 pm
Venue: Appointy Office, 4th floor, Maple High Street Mall, Opposite Aashima Mall, Hoshangabad Road, Bhopal.
See you all this Saturday! 😃