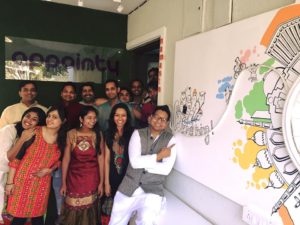 "Whistle whistle" went my mobile notifications at 10 in the night, last weekend. It was my office group on whats-app. Nemesh, our CEO suggested that we check out http://lifeat.appointy.com/ , as it has been updated with some new blogs by "The Interns", especially the one, written by our first ever 'Imported' Intern. I was intrigued and opened my lappy to go through the hoopla! As the last set of Interns did write some interesting anecdotes that made me nostalgic as I recalled the time when I started my career 10 years ago in Delhi. This time as well, the excited minds of the industry virgin interns, running high on enthusiasm from their first enchanted experiences with Appointy, made me really proud of being a part of Appointy.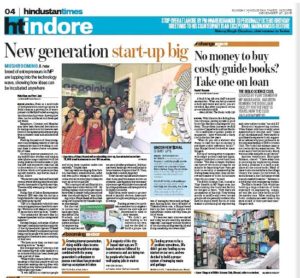 By the time I finished reading, I realised that it is July and It is my First Year Anniversary month with Appointy and my mind went into a flashback of the time I joined the Customer support team of Appointy a year ago and I started penning it down.
Let me start by writing in brief about my background so it will be easy to understand, what makes Appointy so special for me.
I am from Bhopal and completed my IHM in 2006 and by the end of the year, I was in Delhi, where I worked for more than 7 years with a couple of the biggest BPO's and finally decided to come back to Bhopal and start working here so I can spend time with my family, also I got married in January 2014 and then started my quest for finding a decent job and a company, which can accommodate my specific skills and help me support my family. It was an uphill task and I tried all pillars and posts, but struggled to find something satisfying. Almost after a year and a half of my tragic run in Bhopal, I finally got referred to Appointy for an Interview.
I still remember the day I stepped inside the front gate of our office, which is actually a bungalow surrounded by pleasing greenery. As soon as I entered the main gate, I was welcomed by a picturesque entrance and a note "Egos and Shoes Outside". I entered and asked for Sarang, COO Appointy, and was advised to wait for him in "The Garage" which is actually a see through glass room by the front lawn and only seating option is Bean Bags. I was already impressed and that made me even more nervous for my Interview to come, as I badly wanted to work with these guys after my first look at the office. Sarang entered and sat in front of me on another bean bag and started to brief me about the background of Appointy and what they do. To my surprise the interview was nothing like what I have ever experienced in my life and believe me, I have been through a fair share of Interviews. Post my discussion with Sarang, I was introduced with Nemesh, CEO and Founder,  Appointy and I was taken aback with the foresight of these entrepreneurs from Bhopal.
I cleared the interview and was asked to join the very next day. I informed them during the interview about my wife's pregnancy and that I might need leaves any time soon, which they agreed to. During the next week, I was introduced to all the wonderful people, who have contributed to the success of Appointy and have stood there in Bad and Good times for so many years. It was a really soothing, stress free environment. All the developers, customer support team and Sarang & Nemesh all shared the same ground floor office. I was told that Nemesh, does not believe in having a separate CEO cabin and likes to work closely with everyone and true it was, over the coming days I had several interactions on how Appointy aims at promoting the whole Start Up Culture in Bhopal and prove the critics wrong, who have believed that Bhopal cannot be a host to the birth and success of a million dollar company.
I started with product training along with a couple of other colleagues, which by the way is mandatory for anyone joining in any department. Motivation was strong and I started learning about the product.
The very next Monday, my wife went into labour and we were blessed with a  baby boy and thanks to Appointy, I was supported 200% with my new found responsibility and membership to the Father's Club.
I resumed after 9 days of absence and picked on my training. Soon I explored more and was handling the Customers over chat and email support in the Night shift due to Appointy's Global presence.
The first floor of the office had a TT table for entertainment and the kitchen cum pantry on ground floor offered the employees an unlimited supply of juices and snacks. I was enjoying every bit of it.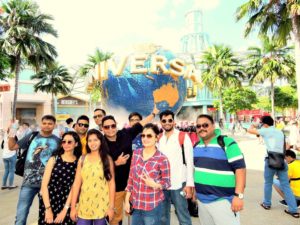 Since then, Appointy has grown at a steady pace. First floor of office now has a Dart Board and a PS4 accompanied by a 52" massive LED smart TV for entertainment. We have team outings organised almost every month, not just for employees, but for their families too. End of February, we flew to Singapore, for Appointy's first ever international off site and believe me, no expenses were spared. When the motivation is so strong, even the employees do not mind a few extra hours, even if that means assisting our clients while in Singapore. Post Singapore, we have been mentoring more and more interns, including our very first international import from Hungary.
We soon would be moving to our new Grand office, with a pool table, air hockey and a massive venue, to organise many fruitful events. Parties and off sites are not a surprise but a way of living at Appointy.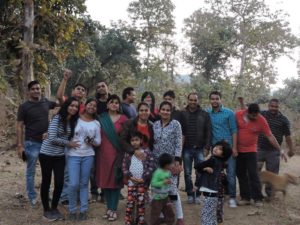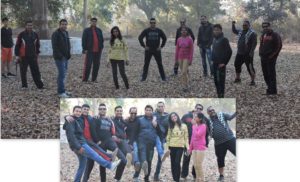 Time does fly when you are enjoying every bit of it and before I realised, I have completed 1 Year at Appointy. Appointy has taught me compassion for work, care for my colleagues, client satisfaction, how to rock the parties and to think out of the box and innovate every second, which was never before a teaching. All the companies will tell you to innovate, but will not allow you to even breathe out of the set rules, Appointy works only on innovation and lets you flex your wings to come up with new ideas to help grow our business.
Appointy is a pleasant breeze of change to the change that culture of Bhopal is going through and a blessing for many more like myself, who want to live in their hometowns, but cannot due to lack of opportunities.
Appointy is where heart is.