After college in the evening, I called up my Bro (Luv) to go to Appointy. It was late night in winter, 15 km ride on the bike. So far so good. We entered the office and had our very first startup culture feel!. The first thing that came into my mind was the openness in the office and the startup like atmosphere. There were no cabins, all employees were having/sharing  same desk and it was like friends working together, contradictory to the Indian offices, cabins and protocols …. boss, yes boss, no boss, boss boss!
After that we were told to sit in the waiting room.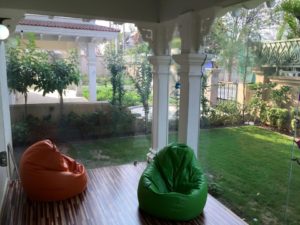 The waiting room: bean bags, toughened glass and two paintings. Out of the two paintings one
was of Bachchan Sahab from the film Sholey and was having the dialogue  "Partner, ab bol hi diye ho to dekh lenge!!". I told this dialogue to Lav. We both were impressed and it became my status on FB. This dialogue was motivation for us.

After that "Nemesh Sir " came, he sat down on a bean bag  and started talking with us. He started sharing its experience. In my mind the image of Nemesh Sir was of an entrepreneur but as I was talking to him, it began to evolve. He became an influencer. His sayings and thinking about startup. The journey and the path to appointy. All things were interesting.
We were told to use and surf through the appointy website. We started chatting with support team and after sometime "Gaurav Sir" stormed up towards us and asked "Have you been chatting with me? "
And were were like  "Okay sir! Sorry, no more time pass 😉 ".
After sometime Nemesh sir came again and he asked to plan for next six months and we were like ":O" next six months?! We had  never planned for even a single day and we were told to plan for 6 months and daily level. But now we've realized that planning is useful and that helps you a lot.
Now the moment had come, we were getting task allotted. We were excited and curious about task, backend , frontend, etc. We got the task and it was just opposite to what we had thought. We were assigned to create a JSON and task about email reviews. First it seemed boring but when we started exploring the review domain, it seemed interesting. The schemes, review collection techniques, they all were new to us and challenging.
What we learnt from our first task was that we should not get bound to a single domain, we can work in any domain and at first it's boring but eventually everything turns out to be interesting!!!