Day 13: It's another day at the internship. Another day of work a 6 month long internship. I come to to work, time in, complete my 80 hour month goal, and get the stipend.
I had some ideas when I thought about how a day at work would be before I joined. I had a good idea in terms of effort and time this work would ask of me, but the realization of what the work had to offer to me would come later. In bits and pieces. I haven't completed even half the jigsaw puzzle to that question yet, but I can tell that it's a big and beautiful picture at the end which is worth the wait.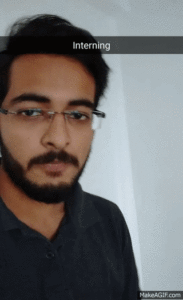 After two weeks here, I have to say that working here is is rarely exhausting or overwhelming. In fact, I'm quite impressed by how big a machinery like this works so effortlessly on the inside. Everyone is friendly and really motivated to make the work culture fun and stress free. Some of the more obvious confirmations to the coolness factor here are the PS4 on a 4K Android TV, a ping-pong table, darts, and an open pantry which serves quick food. Adding to the charm are open, minimal work spaces with fancy wall art and grass floors. Also, occasional outings and pizza parties.
But the place has to offer a lot more than all the flash and bang. Nemesh sir told us the core value they want us to have from working with Appointy- to create something of our own one day, and make it big.
I think, for that, this is the best environment one can possibly get. The CEO, CTO and COO themselves giving time personally to mentor you, sharing their experiences and just working along everybody in a culture where ideas are exchanged freely.
It does not matter where I'll be or what I'll be doing in the next 10 years. I may as well be working somewhere that has nothing to do with startups at all. But that doesn't mean this would have been a tangent in the larger scheme of things. For me, a learning enthusiast, it's a unique learning curve and an indispensable experience I will remember fondly in the years to come. The bigger and more abstract takeaways from this place will be with me.