Now I understand how a million-dollar company works, and I've a lot more to explore.
DAY 1
There I was, sitting in Uber and waiting to reach Appointy. I was excited, clueless, happy and worried at the same time, then. Though I'm a practical person, that day I was a little intimidated. There I looked out, breathing the artificial air in and I recalled that night which I can never forget anywhere near.
'So, the next non-tech intern of Appointy 2016 is…', says Nemesh sir, CEO of Appointy.
'Any guesses?', says Sarang sir beside him, on the podium where the DJ stays.
There I was sitting silently, eating chicken tikka pieces served by the staff of TITO's club. There was a lot of crowd, some of them were drunk and the others enjoying the party. It was a small break for the bang on party, to announce the interns for Appointy this year and many wanted the party back. I didn't want the party, or the break and I just wanted chicken. I was happy by then, as Sarang sir and Nemesh sir met me and told that my short film was good and creative. I was thinking about my end term exams, I had one the day after and I was sitting at a party, just for chicken and music.
'VINAY TEJA REDDY', they called out and it took me two seconds to realize that I was called for. From that second for three hours, I forgot all of my problems in life and started enjoying the party. I understood that one should attend parties and enjoy quite often in life. I just had an idea of how big life was, and what all it has waiting for you.
I reached the place, and I was asked to go to the first floor and there was Aman, my senior at college. He helped me out with the basic information and slowly people started coming in. The place is very fresh, and filled with positivity where you've lots to explore. I was slowly getting into it. I had one thing clear, I would be made to feel like home here.
Then came, Sarang sir (COO of Appointy), he was very cool and friendly, and I know that he's a forest to explore and you'll get to learn many things from him. He called me into his cabin, I felt a bit nervous as I was grabbing his total attention then and that meant something to me. He had a strategy, first he would make you feel comfortable and then talk whatever is required. He told me about my selection process, their reason for my selection and what they expect from me. I was pretty excited, and the best part was that my creativity was being called for and so, now I've to put in my brain. I liked it.
All I wanted to do on my first day, were 3 things.
1. Get comfortable
2. Get familiar to the people and the company
3. Do some research
And I hope I did that quite well. I was badly waiting for the next day at Appointy, when I was leaving.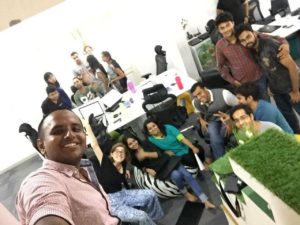 DAY 7
There I was sitting in the same Uber, the same driver, the same car had been there to pick me up. I was recalling all the things I've experienced at Appointy, in the 1st week. I know that working in a start-up would make my profile better, for getting into B-schools, but here I realized work hardly seems hectic here. I'll write down some aspects which I myself realized, which were exciting about Appointy.
Here, a cake is cut and everyone's birthday is celebrated. This shows, how much this company respects every person who work for them.
We went to an outing, and they say we've regular outings and this is awesome. An outing, it was not just a simple outing, we had full packed fun. We went to C21 mall for bowling and after that, we went to Sayaji for non-veg buffet and Nemesh sir dropped me hostel, in his BMW. What more can an outing have?
You can discuss all your ideas with the CEO of the company himself. Nemesh sir told us how to plan, strategize work and he told us many good tips, for handling work. Sarang sir criticizes my work and tells me where to improve, hence making myself a better person here.
One day when I was late to office, there came a photo in the WhatsApp group where everyone was watching GOT S6 Finale and I realized you should never be late to office, as you don't know what surprise you're missing out. (I don't watch GOT though). Here, you've a Table Tennis board, and a lounge where you can relax and play games in the PlayStation, connected to a HD TV.
This place is so good; I fell in love with this place. I have a nice time here. When I'll be fed up with classes in my colleges, I'll surely come here.
Here, you've lots to learn. You understand how a million-dollar company works, and everyone is ready to help you out anytime.
Now I realize what butterfly effect is, had I not gone to my friend's room that day, I wouldn't have known about Appointy and I would've missed this great opportunity.
All I wanted to do in the first week, were 3 things.
1. Realizing the importance of my project, analyse what would happen if it won't happen and how it would help.
2. Start strategizing work, choose the best possible approach and to prior plan everything.
3. Get completely into Appointy.
I hope I did that quite well; I was badly waiting for those things which were waiting for me at Appointy.
-Vinay Teja Reddy