Hola amigos!
It's time again! Code Studio 3.0 is here.
Appointy is looking for fresh, young minds who are ready to experience the taste of startup life now! As always, we have loads to offer to all students who have a desire for learning.
Why Appointy?
1. PPO Opportunities
Appointy hands out pre-placement offers to the interns. The PPO offered to the last batch of interns had a CTC of upto INR 11 lacs for the first year, subsequently increasing upto 18 lacs in 3 years on the basis of your performance.
2. The 'Oh-so-grand' stipend
To describe the thrill of getting your first paycheck is inexplicable. As far as the stipend is concerned, Appointy is a bag full of happy surprises. Apart from the fixed stipend that you get every month depending on the number of hours you've completed, there is also a possibility of scoring a surprise bonus, which is awarded to the interns who have been performing exceptionally well.
3. Vast domain to make yourself useful
Appointy knows how to turn every skill into something productive. Since it's a fast-paced company, you come across new opportunities every day. There's a wide arena of work profiles, which you can experiment in before you take up a project.
---
The startup culture at Appointy office is definitely something to talk about! Appointy's interior probably makes it one of the coolest offices in Bhopal. One can never get bored here. It has everything to make sure you work hard and party harder!
And you know what's the biggest hype in the house these days? Appointy is moving into a brand new office soon! It is going to be bigger and better than before.
Here's a little insider information from the new office plan brought to you exclusively by the Intern Team before Code Studio 3.0 begins.
1.  Share any love for Air hockey or Pool?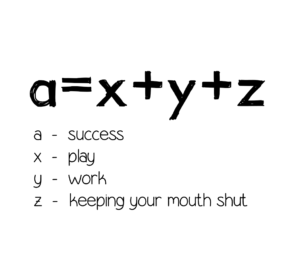 Albert Einstein said, "If A is success in life, then A is equal to X plus Y plus Z. Work is X; Y is play; and Z – keeping your mouth shut."
Well, Appointy doesn't know how important Z is, but Mr. Einstein too understood the importance of Y at a workplace. To relieve yourself or freshen up your mood, Appointy has Air Hockey at the new office! Just in case, you feel like you aren't into Air Hockey, then a game of pool might just chase away your drudgery! And last but not the least, if nothing works, there is table tennis to the rescue!
2. Hot Chocolate, anyone?
 So everyone knows how vending machines and coffee makers satisfy those needs and greeds but is there anyone who craves for hot chocolate? Having a soulful cup of hot chocolate sitting on a bean bag and working is 'THE' workplace we all dream about!
3. PS4 to relieve your stress.
 So, you've got a deadline to meet in a few hours and your mind isn't helping you at all! Appointy knows exactly what you need! A WWE wrestle mania with your colleague might help you relieve all the stress.

4. 'Office' Theatre
 
Imagine how cool it'd be if you could sit with all your friends and watch the season finale of Game of Thrones on a giant 150" Screen. It'd be legendary. And how does Appointy know about it?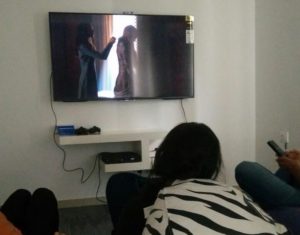 Because it's done here quite a lot! Welcome to your own 'Office' Theatre. Any video. Anytime you want.
5. Weekend Outings:
Here's the thing. The fun at Appointy isn't restricted to the office premises. Appointy likes to mix it up. Every weekend, Appointy plans a fun outing for its interns to dispense the stress and get to know each other better. These outings range from Bowling games and Go-karting challenges to a peaceful retreat in nature's lap at some forest resort.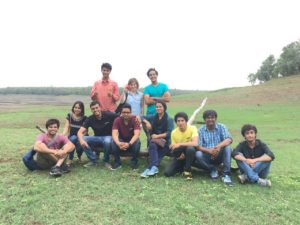 ---
The Recruitment Ritual:
Code Studio 3.0 is scheduled to take place in the month of September 2016. Students are invited to apply for two profiles: Technical and Non-technical.
Here's the timeline of the process: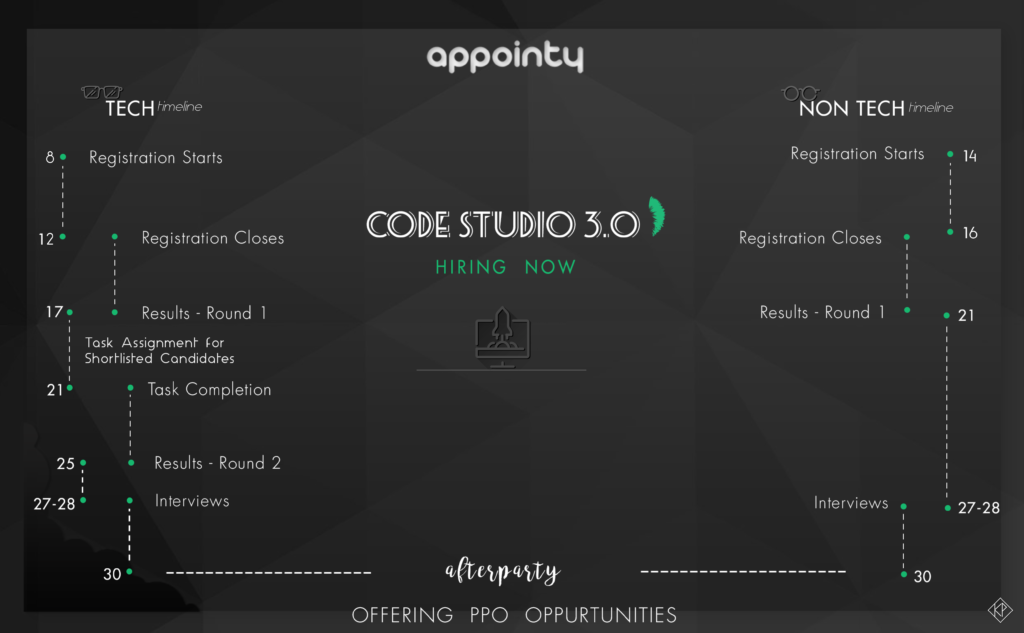 ---
Still Confused About Interning at a Startup? Read This.
Of course, the very thought of 'interning at a startup' makes you instantly compare startups with MNCs. Your curiosity is justified. Yes, MNCs seem glamorous from the outside with their big names and shiny offices but they don't give you an opportunity to explore multiple avenues and learn. You might end up becoming a small part of a very big process.
On the other hand, it's only via working in a small company or a startup that you learn the passion of working and watch something being built from scratch. You can watch you work being transformed into tangible outputs and add to the growth of the company directly.
So, we invite students from colleges across Bhopal, who share the same belief and are willing to work and learn with us.
The registration line for non-tech roles is live now. Apply now!
The registration line for tech roles has been closed. 
Mark your calendars!